Things I do that I don't recommend
March 31st, 2017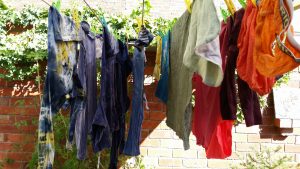 I'm not here to tell anyone how to live their life. This is why. Here's some things that I do.
In the past month I've been hanging out the washing by colour. It does take a little extra time but it's totally worth it. (But don't do this.)
I reply to every single rhetorical question on the Neighbours Twitter account. Sometimes I feel like I have nothing to say, so I come back to it later, but I never miss one. No excuses. On Wednesday I criticised their use of an apostrophe. It was a low point.
When we have too many lemons I make lemon butter. Then I put lemon butter all over the place and brag about how good it is. A couple of weeks ago I made a litre of lemon butter. We've eaten it all.
I haven't quit US political podcasts since the election and I'm still regularly listening to a number of them. This is not the best use of my time. I know more about Trump's failed changes to the Affordable Care Act than I do about the recent changes to childcare in Australia, which might actually affect me. Meanwhile, I've still got no idea what's happening in Syria, but I'm pretty sure it's not good.
And of course, I write blog posts when I could be earning actual money.
Posted in Home, Podcasts, Politics, Television
Leave a Comment