In 2007 my parents generously gave me the box set of Michael Palin's travel documentaries for Christmas. I took notes as I watched them and more than ten years later, I want to share my viewing experience.
There are 49 travel documentary episodes in the DVD boxset spanning from Palin's first crack at the genre, Great Railway Journeys to New Europe released in 2007. (He's since gone on make documentaries on Brazil and North Korea.)
The Challenge
I realised that if I started after New Year and watched one episode each Sunday evening I would be finished the Michael Palin travel documentary DVD boxset by Christmas 2008. But only just. The plan relied on absolutely everything going right. If I missed episodes because of social plans, electricity failures or prioritisation of craft projects I could easily become hopelessly behind schedule and fail.
But why?
In the twentieth century, television programs were drip fed to us, one episode a week. If you wanted to know whether Darcy and Elizabeth got together, you had to tune in next week. In those days, spoilers were only for cars (I think, like mufflers, also not sure about those though). Modern life, however, is alarming with people having easy access to entire seasons of shows. I can't get through a day without hearing about someone binge watching something they shouldn't have.
To the modern media consumer (and even a semi-modern 2008 media consumer) watching one Michael Palin travel documentary per week is stultifying slow. Why watch one episode when you could watch three and a half and get a headache?  However, as I found myself entering 2008, the calculated consistency of the plan appealed to me. In amongst the bustle of the multiple platforms and viewer control I found myself longing for the older style of television viewing – strictly timetabled and out of my hands. I accepted the Around the Palins in a Year challenge. I also set the challenge, and did the challenge and was the only person who cared about the challenge, which only made it more challenging.
Like Michael Palin in Around the World in 80 Days and Jules Vern before him, I did bring a Paspatu on my journey. My Paspatu's duties included making cups of tea and turning on the television.
January 2008: Great Train Journeys
 I made a strong start with Great Rail Journeys, filmed in the early 80s. The plot centres on Michael Palin travelling across Britain on trains. Michael Palin has a daggy love of trains. He is not alone in this and spends each fifty-minute program talking to other people about their daggy love of trains.
January-February 2008: Around the World in 80 Days
When we arrived at week three I was excited, it was time for Around the World in 80 Days. I first watched this show when I was seven. Michael Palin made travel seem incredibly exciting, glamorous, and the whole point of growing up. I also swore that when I began my travels I would NOT fly by plane but would catch boats and trains everywhere. I'm was also pretty sure I'd be accompanied constantly by a film crew.
And also, the theme song for Around the World in 80 Days features brass instruments, train whistles and a ticking clock. It's stirring stuff. Sometimes when I need to reignite my enthusiasm for life, I pop the music on and gallop around for a bit (not the versions that they change to 'suit' the featured location, because I don't agree with those.)
Around the World in 80 Days is fantastic and stood re-watching. The sense of a pressing schedule, varied modes of transport and pleated trousers, all make for marvellous television. We had seven very happy Sundays watching it and success in our televisual slowjourn seemed assured.
March-April 2008: Pole to Pole
Feeling smugly confident we moved on to Pole to Pole where we met the first of our problems that would threaten to derail the entire project.
Around the World in 80 Days was experimental television in its time. No-one had done a completely unscripted travel documentary before. During filming they had no idea that the program would be the fabulous success that it was. Unfortunately, Michael Palin let this go to his head. For the first three episodes of P to P he is an insufferable, over confident idiot. He sweeps his way down from the North Pole patronising the locals and doing irritating stunts for the camera.
Even when it's obvious that they've been pissing around in St Petersberg for four days and could have left at any time, they try to maintain the manifestly ridiculous pretence that they are on a tight schedule and simply must get to the next boat or train.
My commitment to Around the Palins in a Year waned but I still forced myself and Paspatu to sit down every Sunday night. This was difficult but there were even greater challenges ahead.
Paspatu was off to America for six weeks. We had known this from the start and reasoned it was like the time that Michael Palin missed a connection at Jedha then drove across Saudi Arabia alone while his Paspatu caught the plane. I should go on alone and Paspatu would catch me up at Full Circle.
It seemed like a good plan while still immersed in 80 Days. After three episodes of Palin patronising Scandinavians I doubted my resolve and for the first time I skipped a week. I was behind schedule. !!! Have I got your attention? I thought so.
The next week I forced myself to tackle another episode. At this point Palin reached Africa and started to have a very nasty time. This took the edge off his smugness. Enjoying the Palin-with-gastro viewing experience I watched two episodes in a row and I was back on track. Queue stirring music and gallop around the couch.
May-June 2008: Full Circle
It is a lot like Pole to Pole. Still counting the days when the days don't really count. Still patronising the locals and still at his best when he's been vomiting.
And it was during Full Circle that we reached our biggest hurdle. Someone gave us a box set of the West Wing. Our interest levels waned, as did my notes, so it's going to be quick from here.
July 2008: The Hemmingway Adventures
If nothing else, Palin was back on form with the theme song for this one. It was gusty and adventurous, and I want it played at my funeral. I like Hemmingway and he had an interesting life. The lack of a pretend schedule was also refreshing. It was extremely easy to watch one episode a week and we sailed through it like Michael Palin on the boat from Singapore to somewhere else.
August 2008: Sahara
Palin visits all the countries near the Sahara Desert. It looked hot! He looked sick! Therefore, I enjoyed it. There was a particularly good bit where Palin was walking through the desert with some camels. It looked like hard work and I was happy to watch an hour of that a week.
September-October 2008: Himalaya
 This was good. Lots of nice cultural things. But I was starting to worry, we were still two episodes behind schedule. I thought about doubling up on a Himalaya but decided to wait for New Europe expecting an interesting political element that would pull us through and fully around the Palins within the year.
 November-December 2008: New Europe
Palin visits all the countries that have joined the European family since the end of the Soviet era. The theme song is very Eurovision and very annoying. The show is just very dull.
We needed to watch two episodes a week for two weeks just before Christmas 2008.
It was tight. Would we make it Around the Palins in a Year?
And then, like the moment in Around the World in 80 Days when Michael Palin arrives back in London and isn't allowed into the gentlemen's club, our triumph was an anticlimax. We did it. No-one noticed or cared. If anyone is still reading now, I'm astonished at you.
Yesterday I recapped Episode 7590 of Neighbours. I'm worried that's left me looking a little frivolous so today I'm recapping Australia's longest-running political drama, Insiders. The show is about Barry, who invites his friends over every Sunday but none of them get along. The main plot centres on the will-they-won't-they tension between Gerard Henderson and David Marr. Gerard and David seem like complete opposites, and yet, sometimes that can be so right, like with Jesus and Mary Magdalene.
As per usual, Barry has invited three people over because that's how many chairs he has; David Marr, Gerard Henderson and Laura Tingle.
The start of the episode shows a tantalising glimpse of the couch where David and Gerard sit beside each other with their arms folded. Barry ignores them, and wanders off, which may be the only sensible thing to do when two people are in a huff with each other. I feel sorry for Laura Tingle who has been left on her own with Gerard and David like a third-wheeling gooseberry.
Barry stands by himself in the middle of the lounge room and performs a soliloquy about a budget. Then he puts on a video showing lots of men in suits saying "good debt", "bad debt" over and over again for two minutes. To make this bearable there is a catchy song about fresh eyes playing in the background.
Back in Barry's lounge room Barry is talking to himself about a really funny video his friend Huw Parkinson made. Barry is obsessed with Huw Parkinson, and is always going on about how funny his videos are, which is sad because Huw never comes over and I suspect they're just Facebook friends.
Barry then remembers he's got visitors and tries to make conversation by asking if they've read anything interesting in the Sunday papers. He doesn't sit down, probably because he wants to leave as quickly as possible if the Minister for Anything turns up for a chat.
Barry talks to Laura Tingle first. She looks at a piece of paper and says something quite sensible, I think, I'm not sure because it's hard to follow when you're typing.
Barry then asks David if he has any thoughts about something, and it turns out that he does. Gerard gets a turn talking next, because Barry once read a magazine article about how you should include all your visitors in the conversation even if you don't like them much. This gives David and Gerard a chance to disagree on something, which brings a little sizzle. Actually, Laura Tingle doesn't agree with Gerard either. In the end they all agree that everyone is allowed to disagree.
No-one touches the lovely coffee on the coffee table. Barry is clearly hurt by his visitors' rude behaviour because he wanders off to take a Skype call from his friend in Adelaide, who he calls the Shadow Minister for Energy.
Barry is gone for ages. I'm not sure what Laura Tingle, David and Gerard are doing at this point, but I suspect they're absolutely killing the Sunday crossword.
Rudely, the Shadow Minister for Energy person doesn't ask Barry any questions about himself and eventually Barry gets jack of it and wraps up the call.
He then plays the funny video his friend Huw Parkinson made. There are no cats, but it's okay if you know what Star Wars is, which I don't. When we go back to the lounge room Barry is pissing himself laughing. It would nice if Huw could occasionally Like some of Barry's tweets that he's not mentioned in.
Barry wanders back over to his friends for a chat, and this time he sits down. It all goes terribly well until David prefaces a comment by turning to Gerard and saying "I don't want to be disrespectful to you…" We hold our breath but Gerard does not appear to be offended and they're no closer to make-up sex because they haven't had a proper fight yet.
Barry is frightened of awkward pauses, so he keeps showing his visitors YouTube videos and then asking for their opinions. This strategy works, and everyone has lots to say. It gets a bit tense when Laura Tingle and David disagree with each other. This is confusing because I don't think they're supposed to get together in the end.
Next David and Gerard argue about fracking. Now we're getting somewhere; David is gesticulating and Gerard is hunching. Barry changes the topic back to the budget. Sometimes I wonder what Barry's agenda is, and whether he's the right captain for this love ship.
Soon though Gerard is accusing David of being inconsistent and David says that Gerard never listens. David says Gerard has friends, and Gerard denies it. Gerard admits to going to a party once and Laura Tingle pisses herself laughing.
Barry changes the topic back to the budget. I'd be calling for his sacking if it wasn't his lounge room.
Later, they chat about airports. Miraculously, no-one tells a story about the time they nearly got upgraded to Business Class. Gerard tells a story so funny that he chuckles. Later, David makes a joke and then explains it to Gerard, which is kind of him.
Then they have a disagreement about refugees and I start to doubt whether David and Gerard have shared values. Maybe they shouldn't get together because shared values are really important in a relationship.
Barry changes the topic again and David and Gerard force themselves to share another laugh. Barry clearly wants them all to leave now probably because he needs to get on with his laundry and is going out for brunch with Kerry O'Brien.
Barry goes to put on a load of woollens, leaving his guests with "Talking Pictures" otherwise known as "a video". Screen time in Barry's house is out of control. By the time the video is over Barry is done with the wool wash but his visitors are still plonked on the couch not taking the hint. Barry gives the ultimate it's time to leave signal, asking them pointedly for their "final observations".
So, at the end of this episode I'm more firmly than ever in the "No, they won't" camp when it comes to David and Gerard but top marks Insiders for keeping us guessing.
PS Insiders seems significantly less diverse than Neighbours.
Usually I fold the washing or try to touch my toes (I can't) while watching Neighbours but today I've decided to type. I'm taking this step because I've had e-flipping-nough of the washing and my shins (knees on a bad day).
In summary, Friday's episode of Neighbours (epidsode 7590!) was all about advice, solicited and otherwise.
The day kicks off with the two teachers who shagged earlier in the week meeting awkwardly during their morning exercise. Finn wants to tee up a date but Ellie is like nah I have marking because I'm a teacher.
In the Kennedy home, Susan tells Toadie he'll have to do some jobs now that his arm's out of a plaster. I'm pretty sure people with one arm can still do housework, but anyway. Susan offers Toadie a choice of mowing the lawn or doing the laundry. This is what you do with toddlers; the choice gives them a feeling of control. Unfortunately, it's trickier with people who can reach the door handle and Toadie gets out of housework because he receives an envelope. It is never good news when a lawyer gets an envelope and this one puts Toadie in a foul mood. There's no time to put a load on apparently and he leaves immediately for the office. The fact that he has avoided doing the washing is never resolved and has put me in a stinking mood too.
Piper and XanCan are out the front of a caravan like they're in Summer Bay. They're not, they're at a suburban backpackers. When Pippa, I mean Piper complains about the loud music a Bad Backpacker comes on too strong, claiming to know a lot about the Asia Pacific region. XanCan sticks up for her friend by pointing out that Piper is already owned by someone else. The Bad Backpacker implies Piper's boyfriend Tyler is stupid.
Tyler is at the Rebecchi Law/Brand Enthusiasm headquarters breaking the news to his brother Aaron that he'll be in Daylesford for the weekend. Apparently Tyler and Ben will be doing a mechanics course but I think we all know they'll be visiting the lavender farm and drinking from the mineral springs. Tyler gives Aaron advice about love. Tyler has it all sorted out because he's a 25-year-old living with his school-aged girlfriend in the mezzanine of a tin shed. This sounds wrong on paper but as many people have pointed out, it's not actually illegal! Aaron says again that he wants David to to explore all there is out there, which may take some time.
Toadie turns up at the office looking grumpy in pastels, a world first. I hope Susan enjoys washing the angry, bitter sweat from that synthetic fabric later in the week because Toadie has tested her boundaries and now that he knows he can get away with it, he'll never do washing again.
When Father Jack is not knocking up his parishioners he gives them advice like a machine. Naturally, David is keen to tell Father Jack he has come out. Jack is very accepting and likens this experience to becoming a priest. David seeks Father Jack's advice on how to approach Aaron twice during the episode and Father Jack uses neither opportunities to tell David he'll go to hell for being gay, maybe because Jack's not on the clock. In the cafe, the new Rebecchi overhears that David is unlucky in love and advises him to try flattery. I like this idea. David could say something like, "Aaron, you're really good at Tweeting" or "You haven't punched anyone in the head and left them for dead in a car park for like a year now!"
Ellie and Susan Kennedy are having a Nescafe and chat. Ellie is seeking Susan's "good instincts" but Susan is reluctant to give her niece advice. In the end Ellie persuades Susan that one little nugget of wisdom can't possibly hurt, and Susan advises Ellie to put the brakes on her relationship with Finn. XanCan is eavesdropping through the fly screen door and hears the whole thing!
Back at the backpackers a game of dodgeball is afoot but it's a violent, foreign form of the game. Tyler and the Bad Backpacker have words while the other backpackers watch and snigger. Neighbours is doing nothing for the reputation of backpackers and I suspect we will have to do a special episode of Neighbuzz on media representations of travellers with bags rather than wheeley-suitcases.
XanCan tells Finn, her teacher, what she has overheard through the flyscreen door. He asks her for a XanCan Special and we are left to assume they will one day root.
Toadie is still very angry in his pastel shirt. He is so angry that he gives Aaron some home truths, suggesting that Aaron's business Brand Enthusiasm is a flop. Toadie is being very negative, and I suggest that rather than carping at Aaron he should put that energy into scrubbing Susan's smalls.
Back at the backpackers the aggression is through the roof and the music is still very loud. Tyler snatches a phone and kicks the Bad Backpacker out. This is a wonderful opportunity for the Bad Backpacker to go somewhere good, but will he take it?
David pops into the Rebecchi Law/Brand Enthusiasm headquarters and tries to give Aaron a compliment. Instead of taking my advice and praising Aaron for not committing GBH recently, David chooses to focus on Aaron's physical appearance. David then asks Aaron out to dinner. Aaron is cross. David is being too pushy and needs to back off and stop popping into Aaron's work to sexually harass him.
Back at the backpackers Ben tells Tyler he needs to apologise to Piper before they leave for Daylesford to have a high tea and check out the antique shops…I mean, do their engine-fixing course. Tyler approaches Piper but merely manages to perpetuate the fight rather than resolve it. Piper says she doesn't need to be protected and tells Tyler to go. On his departure the Bad Backpacker appears immediately and is inappropriate again. It would appear that Piper does need Tyler to protect her, which had better not be true.
So that's it. Here's how I score the advice givers in this episode.
Susan: She showed the kind of faux-reluctance to give an opinion that lends advice more weight – and she also happened to be right. 9/10
Tyler: He has fundamentally failed to realise that he and Piper are not an inspiring example of how to do love. 2/10
Father Jack: He pretended he doesn't know how to pick up, a clear lie, but at least he didn't tell David that he loves the sinner but not the sin or something awful like that. 7/10
The New Rebecchi: He tells David to flatter Aaron. I'll give him the benefit of the doubt and assume that the New Rebecchi didn't know Aaron has already asked David to stoppit. Better advice for David would be, "Stoppit". 5/10
Toadie: We all know Brand Enthusiasm is really just Aaron's Twitter account and a couple of sausages, but shhh Toadie, you are the owner of Rebecchi Law and 1,000 polyester shirts. Get back to the laundry. 4/10
Last night I was horrified to read that Carly Findlay was out for a fun night and someone laughed at her face. What's worse, this person wasn't immediately disowned by all their friends and family.
I've seen funny before, and that's not part of it. This incident made me really mad so I thought I'd reflect on some of the things that actually are funny, according to me anyway. I have a fairly dark sense of humour, which is totally consistent with not ruining anyone else's day.
Books
The Timewasters Letters is a compilation of letters written by Robin Cooper. In the late '90s he wrote silly letters to organisations and awaited their replies. Writing letters seems cutely obsolete now but I dip in every six months or so and laugh my head off. In my favourites, Cooper writes to a children's publisher pitching inappropriate book ideas. He had an idea for a character Catty who suckles baddies and then burns them. I'm literally laughing while I type.
Live comedy
It's very hard to choose what is the funniest live performance eva because I've seen enough to know that I've seen a lot of amazing. One that stands out is Monica Dullard performing in my home town of Newstead. The whole town loved her and her tales of riding her ex-postie bike from Melbourne.
Television
The animated comedy I am not an animal is about about an animal experiment that goes wrong and produces talking animals who are horrifying yuppy hipsters. There's a lot I can relate to. Emulating the Bloomsbury set, dreaming I own an orangery, practising film criticism by paraphrasing other people's reviews – funny because it's true.
Podcasts
I've said it before, My Dad Wrote a Porno makes me snorty laugh (mixed with snobby literary guffawing). Respective vaginas.
In real life
One time when we were living in a share house my partner said "I'm going to have a shower". I misheard this as "I'm taking the Glad-wrap to the shower" and confusion ensued. He sarcastically said, 'I wrap myself up in plastic and splash around. One day I'm going to drown'. He was bemused by how amused I was, which is not uncommon for me. It's not a case of 'You had to be there' because often, some of the people in the room are pretty unimpressed while I'm almost hysterical. I still find that incident funny. About three times a year I recall it again (often while swimming) and I have to stop and lean on a lane rope. One day I'm going to drown.
You see people, I've had much joy and hopefully not ruined anyone else's night. It can be done.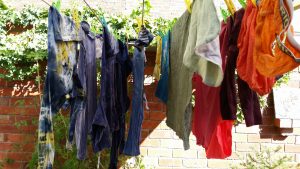 I'm not here to tell anyone how to live their life. This is why. Here's some things that I do.
In the past month I've been hanging out the washing by colour. It does take a little extra time but it's totally worth it. (But don't do this.)
I reply to every single rhetorical question on the Neighbours Twitter account. Sometimes I feel like I have nothing to say, so I come back to it later, but I never miss one. No excuses. On Wednesday I criticised their use of an apostrophe. It was a low point.
When we have too many lemons I make lemon butter. Then I put lemon butter all over the place and brag about how good it is. A couple of weeks ago I made a litre of lemon butter. We've eaten it all.
I haven't quit US political podcasts since the election and I'm still regularly listening to a number of them. This is not the best use of my time. I know more about Trump's failed changes to the Affordable Care Act than I do about the recent changes to childcare in Australia, which might actually affect me. Meanwhile, I've still got no idea what's happening in Syria, but I'm pretty sure it's not good.
And of course, I write blog posts when I could be earning actual money.
Brace yourselves. There's a lot of information in this next sentence.
My friend Vaya, who hosts the comedy recap podcast Neighbuzz, told me I should enter a competition to win tickets to a preview screening of Fox FM presenter Fifi Box's first episode on Neighbours at the Jam Factory on Chapel Street. I thought it was a very good idea for people involved in the Neighbuzz podcast to go along and spread the word, so I agreed.
It was simple to enter, the instructions were to answer the question 'Why do you love Neighbours?' I wrote 500 words on Neighbours as an imaginary community that also facilitates bonding and a shared language in social relationships. Then I realised the word limit was 25 and edited my thoughts and feelings to the point of fatuousness.
Luckily, the saying 'You have to be in it to win it' has never been more relevant but inadequate. It was a case of 'If you're in it, you'll win it'. If someone had written 'I love Neighbours because the pictures move' they still would have won, and actually that is more profound than the 25 words I eventually submitted.
I got the call to say I had won and was also able to bring a friend! I found a friend, apologised profusely and she agreed to come! Also attending was everyone else associated with the podcast Neighbuzz because unbelievably we ALL won!
We arrived for the big night and waited in line. At the front of the queue Fifi Box's radio co-hosts, Dave and Fev I think we're supposed to call them, were posing for photos with attendees. I began to look around for things I could hide under and decided I would simply shriek if they tried their nonsense with me. They didn't.
I arrived in the cinema untouched by human radio breakfast presenters. Excitingly, there were goody bags on our seats. These contained Neighbours merch including notebooks, mugs, key-rings and usb sticks. I was pleased but there was a choc-top shaped hole in my heart. Even though the invitation mentioned canapes and cocktails but not cinema snacks, I had hoped. On the other hand, I was wearing white, so I was philosophical and tried to move on.
Dave and Fev introduced the proceedings and spoke for a bit pretending that they hadn't been pretending on radio that Fifi is ill-qualified to be a soapie star, and then perhaps pretending that they've changed their minds and it is actually a really good idea. Then they introduced the Neighbours stars who had come to the screening, including Ex-Father Doe, Aaron Down the Mines and Izzy the Best Bitch Ever. They have names in real life, but they're not my real friends so I haven't bothered to look them up.
Then the episode began. Everyone looked much bigger than usual, because it was on a cinema screen, which is bigger than my laptop. Fifi Box was good. She had a lot of work to do in her first episode, reuniting with her daughter XanCan, facing a barrage of criticism from Sheila and then acting super-dodgy on her mobile. You couldn't tell that she hadn't acted before and I think we'll be seeing more of her on the tele.
After the episode Fifi fielded questions from the audience. Vaya asked a question and got in a plug for her podcast Neighbuzz, so I felt my work for the evening was done.
On the way out some people who I don't know and am not associated with stole all the spare goody bags and we moved on to the cocktail (house wines and beer only actually) reception.
More Neighbours stars had turned up including XanCan and Sheila. When I'm in a room with someone famous I am so impressed that I bend over backwards so as not to seem impressed and can verge on being rude. In order not to embarrass the podcast I decided I was not the best person to schmooze the room and I stayed near the goody bags drinking sparkling white.
The canapes were quite good. Someone mentioned duck colons as I bit into a duck spring roll but I've moved on. I quite liked the prawns in a long twisty cone and there was nice pizza and mini vegetarian pies. I did not spill anything on my white outfit, making me wonder again if a choc-top could have been a valuable addition to the evening. Actually, I don't wonder, I know I would have deftly eaten it leaning forwards and it would have been great.
So that's my story of how I ended up at the Jam Factory on Chapel Street watching a preview screening of Neighbours with Fox FM's Fifi, Dave and Fev. Next week I'm going to continue to explore different cultures of the world by visiting some Albanian nuns in a cave.
PS. I'm suddenly worried that this sounds really ungrateful. It was actually really fun and nice. Thank you for having me.
I am one of those people who change the subject when asked what kind of music I like. I don't know. Or I kind of know but I think it's the wrong answer and you'll think less of me if you find out.
On the other hand, I do know what kind of music terrifies me. Particularly which television theme songs give me nightmares.
1. The Four Corners music
I like the show, it's very interesting, and they do some ground-breaking journalism including the time that man used a phrase and half the nation learned something. But the Four Corners theme song makes me feel like tonight's story will be about how the world is going to end in the next thirty minutes, which would be silly because the show runs for 42 minutes.
2. The end credits of The Bill
In my childhood the end credits of The Bill showed a female and male police officer's legs and feet walking along cobble stones away from the camera. At first the steady rhythm of their feet and the music is reassuring but as they go further and further away my anxiety rises and eventually as they plod out of shot I realise that we all die alone.
3. The Doctor Who theme song
I have never watched this show specifically because of the theme song. I know it was a ground breaking piece of electronic music but it is very spooky and I don't like it. When I was a child and I heard the music I would go into another room and wish that the Goodies was on.
Having said that, I would still rather listen to these theme songs than talk to you about what music I like.
I'm following the Tour de France through SBS's Sag Wagon podcasts. They only go for about 30 minutes each, but when it's over I look up the footage they've talked about and it pretty much provides enough audio visual fun for a whole evening.
Last week I listed my top men crying moments. I can add another one to the list today. Johnny Hoogerland cried while receiving the polka dot jersey. And having just watched the accident footage, I can see why. It is amazing that he managed to get up from that crash at all, let alone finish the stage and get on the podium.
It's a rest day on the Tour now so the Sag Wagon are also taking a break. Luckily, I can always fall back on that other great competitive spectacle for excitement, Toddlers and Tiaras. It's got the determination, it's got the spills, it's got just as much fake tan and just as little body hair. And as the pageant parents say, beauty pageants are just like sport. It's so easy to judge, but how is getting your five year old's eyebrows waxed any different from buying them a bike and putting Spokey Dokes in the wheels?