Yesterday I recapped Episode 7590 of Neighbours. I'm worried that's left me looking a little frivolous so today I'm recapping Australia's longest-running political drama, Insiders. The show is about Barry, who invites his friends over every Sunday but none of them get along. The main plot centres on the will-they-won't-they tension between Gerard Henderson and David Marr. Gerard and David seem like complete opposites, and yet, sometimes that can be so right, like with Jesus and Mary Magdalene.
As per usual, Barry has invited three people over because that's how many chairs he has; David Marr, Gerard Henderson and Laura Tingle.
The start of the episode shows a tantalising glimpse of the couch where David and Gerard sit beside each other with their arms folded. Barry ignores them, and wanders off, which may be the only sensible thing to do when two people are in a huff with each other. I feel sorry for Laura Tingle who has been left on her own with Gerard and David like a third-wheeling gooseberry.
Barry stands by himself in the middle of the lounge room and performs a soliloquy about a budget. Then he puts on a video showing lots of men in suits saying "good debt", "bad debt" over and over again for two minutes. To make this bearable there is a catchy song about fresh eyes playing in the background.
Back in Barry's lounge room Barry is talking to himself about a really funny video his friend Huw Parkinson made. Barry is obsessed with Huw Parkinson, and is always going on about how funny his videos are, which is sad because Huw never comes over and I suspect they're just Facebook friends.
Barry then remembers he's got visitors and tries to make conversation by asking if they've read anything interesting in the Sunday papers. He doesn't sit down, probably because he wants to leave as quickly as possible if the Minister for Anything turns up for a chat.
Barry talks to Laura Tingle first. She looks at a piece of paper and says something quite sensible, I think, I'm not sure because it's hard to follow when you're typing.
Barry then asks David if he has any thoughts about something, and it turns out that he does. Gerard gets a turn talking next, because Barry once read a magazine article about how you should include all your visitors in the conversation even if you don't like them much. This gives David and Gerard a chance to disagree on something, which brings a little sizzle. Actually, Laura Tingle doesn't agree with Gerard either. In the end they all agree that everyone is allowed to disagree.
No-one touches the lovely coffee on the coffee table. Barry is clearly hurt by his visitors' rude behaviour because he wanders off to take a Skype call from his friend in Adelaide, who he calls the Shadow Minister for Energy.
Barry is gone for ages. I'm not sure what Laura Tingle, David and Gerard are doing at this point, but I suspect they're absolutely killing the Sunday crossword.
Rudely, the Shadow Minister for Energy person doesn't ask Barry any questions about himself and eventually Barry gets jack of it and wraps up the call.
He then plays the funny video his friend Huw Parkinson made. There are no cats, but it's okay if you know what Star Wars is, which I don't. When we go back to the lounge room Barry is pissing himself laughing. It would nice if Huw could occasionally Like some of Barry's tweets that he's not mentioned in.
Barry wanders back over to his friends for a chat, and this time he sits down. It all goes terribly well until David prefaces a comment by turning to Gerard and saying "I don't want to be disrespectful to you…" We hold our breath but Gerard does not appear to be offended and they're no closer to make-up sex because they haven't had a proper fight yet.
Barry is frightened of awkward pauses, so he keeps showing his visitors YouTube videos and then asking for their opinions. This strategy works, and everyone has lots to say. It gets a bit tense when Laura Tingle and David disagree with each other. This is confusing because I don't think they're supposed to get together in the end.
Next David and Gerard argue about fracking. Now we're getting somewhere; David is gesticulating and Gerard is hunching. Barry changes the topic back to the budget. Sometimes I wonder what Barry's agenda is, and whether he's the right captain for this love ship.
Soon though Gerard is accusing David of being inconsistent and David says that Gerard never listens. David says Gerard has friends, and Gerard denies it. Gerard admits to going to a party once and Laura Tingle pisses herself laughing.
Barry changes the topic back to the budget. I'd be calling for his sacking if it wasn't his lounge room.
Later, they chat about airports. Miraculously, no-one tells a story about the time they nearly got upgraded to Business Class. Gerard tells a story so funny that he chuckles. Later, David makes a joke and then explains it to Gerard, which is kind of him.
Then they have a disagreement about refugees and I start to doubt whether David and Gerard have shared values. Maybe they shouldn't get together because shared values are really important in a relationship.
Barry changes the topic again and David and Gerard force themselves to share another laugh. Barry clearly wants them all to leave now probably because he needs to get on with his laundry and is going out for brunch with Kerry O'Brien.
Barry goes to put on a load of woollens, leaving his guests with "Talking Pictures" otherwise known as "a video". Screen time in Barry's house is out of control. By the time the video is over Barry is done with the wool wash but his visitors are still plonked on the couch not taking the hint. Barry gives the ultimate it's time to leave signal, asking them pointedly for their "final observations".
So, at the end of this episode I'm more firmly than ever in the "No, they won't" camp when it comes to David and Gerard but top marks Insiders for keeping us guessing.
PS Insiders seems significantly less diverse than Neighbours.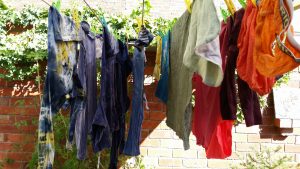 I'm not here to tell anyone how to live their life. This is why. Here's some things that I do.
In the past month I've been hanging out the washing by colour. It does take a little extra time but it's totally worth it. (But don't do this.)
I reply to every single rhetorical question on the Neighbours Twitter account. Sometimes I feel like I have nothing to say, so I come back to it later, but I never miss one. No excuses. On Wednesday I criticised their use of an apostrophe. It was a low point.
When we have too many lemons I make lemon butter. Then I put lemon butter all over the place and brag about how good it is. A couple of weeks ago I made a litre of lemon butter. We've eaten it all.
I haven't quit US political podcasts since the election and I'm still regularly listening to a number of them. This is not the best use of my time. I know more about Trump's failed changes to the Affordable Care Act than I do about the recent changes to childcare in Australia, which might actually affect me. Meanwhile, I've still got no idea what's happening in Syria, but I'm pretty sure it's not good.
And of course, I write blog posts when I could be earning actual money.
I've just listened to an audiobook Coping with Grief based on an ABC radio series produced in 1995.
I think the take home message was that attempting to make the grieving person feel better is often not the most helpful response. Instead, we should support people as they go through the natural but painful emotions and physical reactions of grief.
Coping with Grief included interviews with people who were experiencing grief along with experts and counsellors. It was good stuff, but I found myself misting up several times.
I am a big cryer. I once cried at the preview of Pocahontas. There was something about the way the leaves swirled around the Pocahontas' feet combined with the music that choked me up.
I find crying very helpful and it makes me worried that some people feel like they shouldn't do it. All of the experts interviewed in Coping with Grief talked about the problems caused by the stigma against men crying or talking about their emotions. The show was produced 15 years ago so I really hope things are starting to change.
It could be all in the marketing. A promotion for men's moisturiser encourages men to "dare to care". Similarly, TAC advertised "power naps" rather than "nanna naps" to appeal to the tuckered out male driver. We probably need a manly name for crying like Tears of Steel.
I don't think less of men when they cry. If anything, it can make me like them more. Here are my top men crying moments.
1. Kevin Rudd's blub when he was given the boot as prime minister. I was quite happy about having a female prime minister but his speech made me blub too.
2. When my classmate Ian got hit by a ball in the face in Grade 4 during a game of rounders. I saw him cry and pretend not to. I fell in love.
3. In Dead Poets' Society when Charlie comes to tell Todd that Niels is dead. Charlie is crying. As was I, or more like sobbing hysterically.
4. In Year 10 I went to the International Student Conference (aka the International Nerd Convention). My school's group had a fantastic week in Melbourne working with a school from Pretoria and we were devastated when it was over. We knew we'd never see the Pretorians again. On the way to the train station where we said goodbye one of the boys sat by himself and stared out the window of the tram. But you could see in the reflection that he cried.
I've just read What is Property by Joseph-Pierre Proudhon, which stridently argues that all property is theft.
Proudhon wrote in the mid-19th century and has a flourishing style. In particular, he loves exclamation marks, writing sentences such as, "Days of conflagration and anguish!" He really peaks in brilliance though, with his two word explosions of repulsion. For example, "Deplorable pride!"
You don't see many sentences like that now. But I think there is no better way to decry. Let's take another example. The sentence, "false calculation" sounds like the sort of thing an accountant might write in the margin of a tax return. But the sentence, "False calculation!" suggests an error of huge importance, which we will naturally want to get hysterical about.
I also like the economy of this technique. When Proudhon writes, "Debased creature!" in just two words we are left in no doubt that, in his opinion, the way the bourgeoisie are behaving is pretty well not on.
So I would like to see more of the 19th century two-word exclamation of disgust in modern writing. I thought I'd start by describing some of my worst ever story tape experiences using this form. I am not saying that these books are necessarily bad, just that I had a rotten time listening to them.
The Nanny Diaries by Emma McLaughlin and Nicola Kraus: Infuriating inaction!
Momento Mori by Murial Spark: Existential calamity!
The Reef by Di Morrissey: Vexed exposition!
The Clicking of Cuthbert by PG Wodehouse: Interminable golf!
The Daredevil Tycoon by Barbara McMahon: Total crap!
So I recommend that you have a go yourselves. It's fun. Wretched abacus!