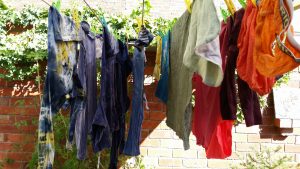 I'm not here to tell anyone how to live their life. This is why. Here's some things that I do.
In the past month I've been hanging out the washing by colour. It does take a little extra time but it's totally worth it. (But don't do this.)
I reply to every single rhetorical question on the Neighbours Twitter account. Sometimes I feel like I have nothing to say, so I come back to it later, but I never miss one. No excuses. On Wednesday I criticised their use of an apostrophe. It was a low point.
When we have too many lemons I make lemon butter. Then I put lemon butter all over the place and brag about how good it is. A couple of weeks ago I made a litre of lemon butter. We've eaten it all.
I haven't quit US political podcasts since the election and I'm still regularly listening to a number of them. This is not the best use of my time. I know more about Trump's failed changes to the Affordable Care Act than I do about the recent changes to childcare in Australia, which might actually affect me. Meanwhile, I've still got no idea what's happening in Syria, but I'm pretty sure it's not good.
And of course, I write blog posts when I could be earning actual money.
In the summer after my first year at university I worked in a bacon factory in my home town. In the section called the Bacon Room. I saw a lot of bacon. Let me give you some advice about eating bacon. Don't.
It was quite common for uni students from my home town to come back from Melbourne over the summer holidays to work in the bacon factory. It was a good way to earn money but also save money by staying with your parents and eating all their food. Despite these practical advantages I wasn't very keen. I applied for the job out of guilt and desperation. I'd had no luck getting a job in Melbourne and I had to have a job over the uni summer holidays. Not so much for financial reasons, but for pride. All my friends had summer jobs, it would have been totally weird to spend three months doing nothing.
My application was successful (possibly due to nepotism as I had two uncles who worked there) and sick with anticipation and nerves, I started working in the bacon factory at the end of November 2000. It was a hard job. Getting up at 4.30 every morning. Performing mind-numbingly tedious work for ten hours a day. Dealing with people who seemed to hate me and shouted a lot.
At the end of my factory stint my sister convinced me to enter Raw Comedy with a stand-up routine about the bacon factory. I got through to the National Final. Suddenly, it was all worth it. That was the true value of working in a bacon factory! To mock!
Years later, reading through my bacon factory diary (presumably on a train) it struck me that there was a an actual story arc to my time there. Characters were introduced, tensions built and then resolved. It was almost as if there was a point to it. That hardly ever happens in real life, and has certainly never happened in any other diary I've kept. Usually my diaries are like: meet someone, crush, crush, crush, rejected, pine, pine, pine, pine. And then I never mention them again.
Excited by the real life narrative neatness I thought I'd found in my bacon factory diary I tried to milk the experience in a different medium and wrote a manuscript of a novel based on my time in the factory. It didn't work. It turns out that real life is too messy and apparently I'm an unengaging character who seems a bit immature.
I can't quite give up on it though, and recently it's been on my mind again. The themes I was trying to explore in my novel have played out in the recent democratic shenanigans across the world. Work, class, gender, racism, sexism and sexual harassment. The bacon factory had it all!
We're coming up to the 16 year anniversary of my time as a factory worker, which is very exciting as 16 is a square square number. So, I aim to write once a week, exploring my experiences 16 years ago when I picked up bacon and put it back down again for two months.
Names will be changed. Pigs were definitely harmed. You are very welcome.