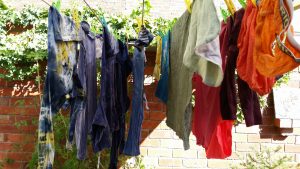 I'm not here to tell anyone how to live their life. This is why. Here's some things that I do.
In the past month I've been hanging out the washing by colour. It does take a little extra time but it's totally worth it. (But don't do this.)
I reply to every single rhetorical question on the Neighbours Twitter account. Sometimes I feel like I have nothing to say, so I come back to it later, but I never miss one. No excuses. On Wednesday I criticised their use of an apostrophe. It was a low point.
When we have too many lemons I make lemon butter. Then I put lemon butter all over the place and brag about how good it is. A couple of weeks ago I made a litre of lemon butter. We've eaten it all.
I haven't quit US political podcasts since the election and I'm still regularly listening to a number of them. This is not the best use of my time. I know more about Trump's failed changes to the Affordable Care Act than I do about the recent changes to childcare in Australia, which might actually affect me. Meanwhile, I've still got no idea what's happening in Syria, but I'm pretty sure it's not good.
And of course, I write blog posts when I could be earning actual money.
The rise in the popularity of podcasts has been an absolute boon for me. I have listened to audio books since a tot, but podcasts have added an embarrassment of riches to my audio options.
Here are the podcasts that I regularly listen to and what they bring to my life.
1. My absolute favourite podcast dares not speak its name on this blog. However it is extremely popular so if you google "My Dad Wrote a" all will be revelled. I have become evangelical about this podcast and regularly and annoyingly proselytise to friends about why they should listen if they want to have happy and fulfilled lives.
Annabel Crabb and Leigh Sales put their dazzling friendship on display while chatting about politics, films, books, art and cooking. They jam recording in around midwinter balls, television appearances and apparently cooking more biscuits than seems feasible. Crabb and Sales' all-round competence in their hectic lives and brilliant careers is almost annoying, but they have enough self-depreciation and awareness to stop my smugdar from raising the alert and making my arms throw things. They also recommend a lot of good stuff and have a list of links to follow up on.
3. Neighbuzz
Bit of disclosure – I am sometimes on this podcast but far more often I am just listening and laughing. Hosted by my good friend, Vaya Pashos, Neighbuzz brought me back into the Neighbours fold after years in the wilderness. Before Neighbuzz was invented I hadn't watched Neighbours since Karl and Susan were having marriage troubles! (Sorry, that doesn't really pin the timeframe down.) I enjoy listening to Neighbuzz even when I don't watch the show because it's funny.
4. Bodgy Creek Football Club Podcast
Damian Callinan performs all the roles on this very clever and very funny podcast. The only problem for me is that you do actually have to listen to it. I often consume podcasts while pretty actively involved in housework and letting my children develop independence by unsuccessfully trying to ignore them. Bodgy Creek does not work for that. You can't appreciate it properly while having a conversation about making playdough, which we don't need to do because we made playdough last week and it is in the fridge and we're not making any more. So Bodgy Creek is a treat podcast for me when I have time to concentrate.
I have been checking out some podcasts about the US election, however, often I become just too terrified by the whole thing and disengage. Then I go back to my number one podcast at the top of this list. You should listen to it. Really, you should. It will make you happy even if the world as we know it is going to end. We have a rogue comma. Just try and forget about it.
PS: Obviously, I don't listen to the first podcast mentioned in front of the children either.